There are cute, colorful colonial towns.
Both León and Granada, the two main towns to see in Nicaragua, are charmingly laid-back with buildings vibrantly painted in pastel hues and sleepy tree-lined central squares. However, if you have time for only one, make sure to visit Granada (picture Cartagena, minus the many tourists). Stay in the chic Tribal Hotel, whose interiors are embellished with an eclectic assortment of decorative objets that co-owners Jean-Marc Houmard (a partner in New York City's Acme and Indochine) and Yvan Cussigh collected along their global travels. Eat breakfast, lunch, and dinner at Espressonista, a coffee shop by day and refined restaurant by night. And make time to visit the local Masaya craft market for souvenirs including hand-painted animal masks made by local craftsmen. Got an extra hour? Take a detour for a dip in the crystal clear waters of the Apoyo crater lake.
And the surf's up pretty much every single day of the year.
Thanks to trade winds blowing across Lake Managua and out over the Pacific, Nicaragua's southern coast has consistently great waves almost every day. Even better? It's not uncommon to get a break all to yourself. Some top surf beaches include Playa Maderas to the south (home to the popular grown-up summer camp–style Maderas Village), Popoyo, and Playa Colorado. Then there's also the less-frequented northern beaches (some of which have yet to be named), where camps like Rise Up Surf have set up shop and can help guide you to prime spots.
Speaking of lakes, Lake Nicaragua is the largest one in Central America and is strikingly beautiful.
In the shadow of the imposing Mombacho volcano, you'll find a string of tiny islands sprinkled across this massive lake. Some are untouched, others are inhabited by local fishermen and their families, and a few have been converted into extraordinary eco-lodges, where guests wake to the sound of birdcalls and spend days kayaking, paddleboarding, and swimming to neighboring islets for a chance to spot spider monkeys and other wildlife. For a luxe stay, head to Jicaro Island Ecolodge, which offers gorgeous two-story casitas, tasty chef-prepared food (plus the world's best piña coladas made with the divine local Flor de Cana rum), and a heavenly spa. Or, check out the tiny and relaxed Isleta El Espino, where shoes are absolutely optional and power comes courtesy of the sun.
Then there are all those volcanoes (and jungle-covered mountains) to explore.
A hike up one of the country's volcanoes will offer a welcome break from the sun. Head up the massive Mombacho volcano into the verdant cloud forest, where you'll find trees draped with vibrant orchids and howler monkeys chasing each other among the branches. On the way down, stop at one of the working coffee farms for a strong cup of the local stuff. Alternatively, thrill seekers can head to the black sand–covered Cerro Negro to "volcano board" (essentially sliding at high speeds on wooden boards down the 2,400-foot mountain face).
The incredible hotels alone make it worth the trip.
If intimate boutique retreats are up your alley, escape to La Bahia Beach Hotel, a four-room sanctuary on the northern coast owned by two surf-loving former New Yorkers. Here, the stand-alone casitas are low-maintenance luxe (think stone outdoor showers and teak porches), meals are served communally, and breakfast cocktails are happily encouraged. Hammocks are a big thing in Nicaragua (seriously, every household has at least one), and you'll find plenty of them scattered around this property for your napping pleasure. For a more traditional resort experience, Mukul offers well-appointed rooms and villas (with private plunge pools), sprawling grounds, and an unreal spa (composed of six individual, multiroom spa suites with different themes where guests book time instead of specific services and are then treated to therapies customized to their needs). Then, there's the brand-new Nekupe, a serene lodge located in the countryside a few miles from Granada, set to start welcoming guests this summer. And word on the street is that the guys behind Granada's Tribal Hotel have a beachfront property in the works too.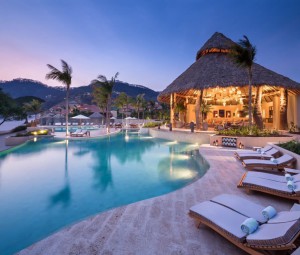 Oh, there's a stunning Caribbean coast as well.
A quick flight from the capital of Managua will find you in the tiny Corn Islands. Warm, aquamarine waters and teeming coral reefs are the offerings here. Check in to Yemaya on jewel box Little Corn Island and prepare for a few blissful barefoot days of doing absolutely nothing.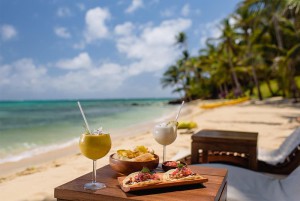 Source: http://www.vogue.com/slideshow/nicaragua-travel-guide-places-to-visit#1