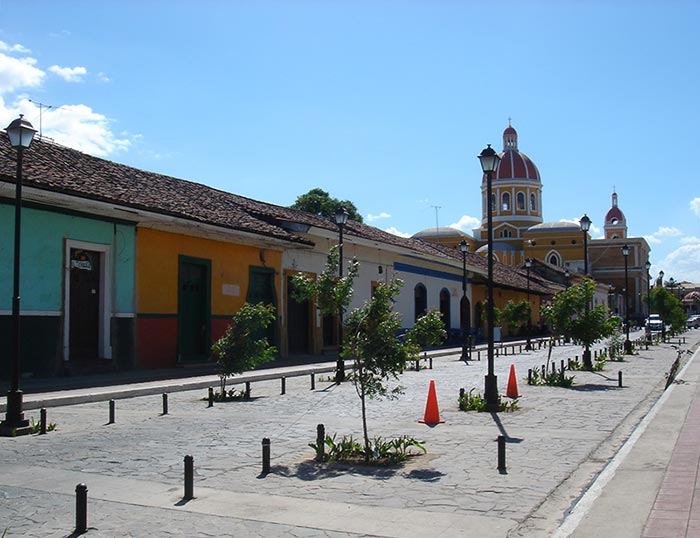 Founded on the shore of Lake Cocibolca (a.k.a. Lake Nicaragua) in 1524, pretty-as-a-picture Granada is the oldest city in Nicaragua, (though its rival, Leon, was founded later the same year.)  The charm of this colonial gem of a town starts at its palm-treed Parque Central, a plaza framed by Moorish arcades and populated with splashing fountains, strolling ice cream vendors and decorated horse-drawn carriages at the ready for clip-clop touring along cobbled streets. Around town, we find well-preserved colonial homes in a full palette of tropical colors and historic mansions converted to delightful boutique hotels and fine restaurants.  But no restoration is more majestic than the church and museum complex of the San Francisco Convent.  On display in the museum are festival masks and a collection of pre-Columbian statues from Zapatera Island on Lake Nicaragua. Among other churches, La Merced with its baroque façade and intricate interiors is the most beautiful. There are many good reasons to spend lots of time in Granada:  here's the place for a chocolate massage or studying Spanish; for dining on  some of the most innovative cuisine in the country; for a lively and friendly nightlife converging around the Calle La Calzada pedestrian street.
And Granada is an excellent base from which to explore much of the country.  Close by and just off the lakeshore, the archipelago of little islands called las Isletas offer slowdrifting through narrow waterways by manned boat or self-paddle kayak; along the way you'll watch how the locals live, see some beautiful homes and discover excellent bird watching. And just up the "hill" that dominates one side of Granada is the lovely cool, misty Mombacho Volcano Cloud Forest, a protected nature reserve that forms a concentrated and elevated (2,800 ft. above sea level) island of flora and fauna: 3 species of monkeys, 168 species of birds and more than 100 orchid species. Its centerpiece is the Mombacho Volcano, still bubbling with fumaroles.  You could spend a day up here, for the reserve has some of the best-maintained trails in the country: the longest (3 hours) forms a loop with several difficult climbs that lead to a breathtaking viewpoint. Everyone enjoys visiting both the Butterfly Garden and the Orchid Garden, but the major draw is the Mombacho Canopy Tour, a glide through the jungle treetops riding a 17-platform zip line.
Take a day's excursion by boat to Zapetera Archipelago National Park, two hours by boat from Granada. Made up of 11 islands, Zapetera is famous pre-Columbian zoomorphic stone statues (those on display in the Convento San Francisco come from here), one factor in archaeologists' view that the island was once an important religious site. In addition to 20 archaeological sites, the island boasts a crater lake and a lot of wildlife. Some of the most spectacular rock drawings are nearby on little Isla el Muerto.
Getting there: 28 miles (46 km) from Managua